France
Are you thinking about an Interrail adventure that involves France? Then read on and find out what exactly makes France the number four destination in our list of top five Interrail destinations.
---
Paris - the city of all things fashion
Undoubtedly one of the many things France is known for is the being a leader when it comes everything and anything about fashion. So it's no wonder that we think France should be very high on any fashion appreciating Interailer's list.
Paris, is not only the capital but also the centre for all things fashion and shopping is a that is exactly why it's a must do for any Interrail explorer that has a passion for fashion and style.
So with that in mind we have put together the bits below to give you an idea of the places not to miss if you want to get a real shopping fix in Paris.
Rue de Rivoli: Take a stroll down one of the most famous streets in Paris and get your souvenir and sightseeing needs covered at the same time!
Running along a long stretch that takes you to the centre of Paris, you start of at the Place de la Concorde, one of the city'smajor public squares. Then make your way past the world famous Louvre, which houses some amazing masterpieces including the mysterious portrait of Mona Lisa.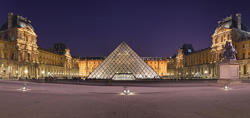 After a dose of art at this world famous museum you can continue your walk to the centre of Frances capital city for a freshly backed croissant and cup of coffee whilst you kick back and relaxed after a truly enjoyable walk. It goes without saying that the Souvenir stores along the route should most definitely not be missed either.
Avenue Montaigne: The area of Paris that we like to refer to as the Parisian centre of high fashion, simply because of the endless number of high-end fashion brands that call this part of Paris their home. From stores such as Chanel, Dior, Fendi, Louis Vuitton, and Valentino to jewellers like Bulgari and Harry Winston. It goes without saying that if you are true fashionista a visit to Avenue Montaigne is a must do during any Interrail adventure in France.
The Champs Elysées: The area of town more suited for those that like to stay chick without breaking the bank. This is where all the Flagship stores of major international brands are housed. From Banana Republic and Zara to Abercrombie & Fitch and Levis as well as a Marks & Spencer Store, Champs Elysees has all your high-street shopping needs covered for you.
And if all these suggestions do not cover your shopping needs, you could always take a stroll to the nearby Boulevard Haussmann where you can find all the big department stores of the city including Galeries Lafayette, Printemps and la Samaritaine.
So if you need a real fashion fix then an Interrail France Pass could be just what you need.
The French Riviera - for a bit of nature and plenty of fun
Locally known as the Côte d'Azur, the French Riviera stretches along the Mediterranean Coastline of the country in the most south eastern part of France.
With its beginnings as a winter health resort for the British Upper class at end of the 18th Century, the French Riviera has played host to various icons of history through the years. Some of which have included Queen Victoria, the Rothschild family, Pablo Picasso and more recently Elton John and Johnny Depp.
The French Riviera is full of destinations to suit any seaside lovers' needs. From the Nice, the second biggest city in France filled with plenty of natural beauty. To Cannes, the city of the world famous Cannes film festival and Saint-Tropez the city on the Riviera that is known for being a little more on the lively side.
Nice: With blue skies and seas as well as a mild Mediterranean climate to match Nice, the 2nd biggest city along the French Riviera is for sure a must visit destination during an Interrail trip to this part of the Mediterranean. The natural beauty of the city as well as its various microclimates, make Nice a good Interrail destination for Sun and Ski lovers alike. Nicely placed on the "Bay of Angels" this lovely city is dotted with beautiful hills to the north/north-east and stunning beaches to the south. Add to that the many festivals that Nice hosts as well as the cultural wealth of the city and your list of reasons why to take an Interrail trip to the amazing city of Nice are complete.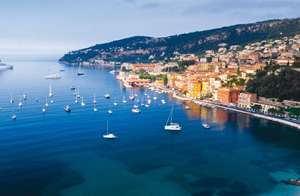 Cannes: The city that is world famous for its yearly film festival surely is a must visit for any film lover but there is lots more to do too. A popular destination for tourists the city sure does live up to standards with the plenty of things to do and see. Cannes most definitely is a good destination if you want to enjoy the brilliant night live of the French Riviera. From Le Palais, a club that is only open 50 nights a year. Or places like Le Sun 7, which h is the perfect place for any young Interrailer looking to party away. Then there are always places like Palm Beach casino or L'Atelier, a great club which is situated right inside the Palm Beach casino. So you can enjoy a good game of poker before you party the night away. So if you enjoy a good party or two, then Cannes should definitely make it onto your Interrail destinations list.
Saint-Tropez: Once a tranquil fishing village its story changed forever with the arrival of the celebrities in the mid 1950's. It is a part of the French Riviera that went from being calm and tranquil to being a little more on the fun and loud side. With plenty of dinning and partying options like Brasserie des Arts, known as the hang out of the locals or the world famous Le Club 55, the ultimate entrainment spot that combines beach bar and restaurant into one. The numerous beaches like Plage de Pampelonne and vineyards just of the golf of the city provide a more relaxed alternative to the slightly wilder side of the city. St Tropez, has something to offer every taste and every budget.
So have a look out our Interrail France Pass now and find out how you could be taking a train trip to these great cities along the French Riviera.
Disneyland Paris-A little bit of fun for the entire family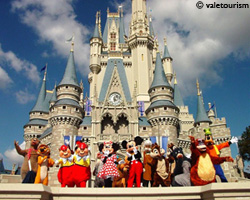 Disneyland Paris, the most famous entertainment resort in Europe is the ideal place for any Family on an Interrail Adventure. Located only 20 miles from the heart of Paris, Disneyland can easily be reach by train too. With 2 theme parks, plenty of shopping and dining opportunities as well as several hotels a stay at Disneyland Paris could really be considered the ideal family holiday, it surely will go down really well with the kids too. So have a look at our France Interrail Passes and find out how you could make your way to Disneyland Paris and the rest of France by train.
If your feeling a little more intriged about what France has to offer then have a look at our Interrail France Pass and find out how you could be discovering all these places by train.