Free 1st Class upgrade, from Interrail with love!
Love travel, love springtime, love Europe and a little comfort? ...then we'd love to treat you to just that with a 1st class upgrade for free!
But what does a free 1st Class upgrade mean to you?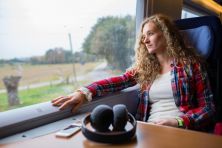 To us it means following your passion for travel with the added benefits of extra leg room, wider seats, quieter carriages, snacks at seat and the occasional lounge access en-route, all while exploring 31 countries of Europe as spring unfolds.
Get your Free 1st Class Upgrade today!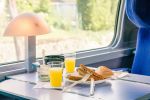 Important information
:
1) Purchase by

28th February 2019
2) Must have completed travel by

15th May 2019
3) These Promotional Passes are

non-exchangeable and non-refundable
You can book up to 2 Free Child Passes per Adult Pass. For each additional child please purchase a Youth Pass.
1) Promotional Passes: are Non-Refundable and Non-Exchangeable. You will need to confirm your travel date at the time of booking, this cannot be changed once a Promotional Pass has been issued. Regular Passes are also available here.
2) Compulsory Reservations & Supplements: Please be advised that compulsory reservations and/or supplements apply on certain trains (eg: High Speed or Sleeper services.) Details of approximate prices can be downloaded for international journeys here and domestic journeys here. Further details on reservations can be found on the Eurail Group website.
3) Booking Horizon: You will need to select the start date of your Pass at the time of booking, this can be any date wthin the next 11 months.
Coverage
The Interrail Global Pass covers your train travel in the following 31 countries, excluding your country of residence.
Click on the links below to find out more about each country.