An Interrail Adventure:
---
Trip Diary Part 1
---
---
Amsterdam - Prague in 10 days
---
---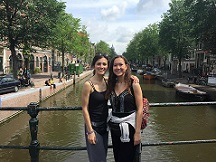 Early year this we sent 2 good friends Amy & Talya on an Interrail adventure. We let them decide where they wanted to go and how long for.
They had there hearts set on a trip from Amsterdam (Netherlands) right through to Hvar (Croatia). So that's exactly what we gave them.
Read their 26 day Interrail diary here. 9 stops over 26 days - an Interrail adventure at its best.
---
---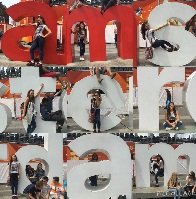 We arrived at Amsterdam airport at 21:00 and took a direction train from the airport to Amsterdam central station which cost €5. We then walked to our hostel, Central Station Hostel, and checked in.
Our evening was spent wandering around the local streets, trying some traditional local chips which were covered in mayonnaise (€3) and checking out the red light district. Amsterdam had an extremely buzzy atmosphere in the evening which meant that wandering around with no plan was really enjoyable.
---
We had booked tickets to visit the Anne Frank Museum prior to leaving for our trip so we were able to skip a 3-hour queue and go straight into the exhibition. The hour exhibition was touching and insightful and definitely worth visiting if booked in advance.

We then had brunch at The Pancake Bakery which was a 5 minute walk from the Anne Frank House and was located right by the canal. Here they s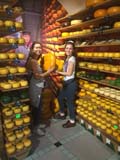 erved pancakes themed from all over the world – we tried the traditional Dutch pancake!
In the afternoon, we had a nice walk round the main areas of Amsterdam and visited the floating flower market. Here we looked at lots of pretty flowers and plants and then visited lots of cheese shops nearby, where there were loads of samples of local cheeses and traditional sweet treats. Amy's personal favourite was the truffle cheese!

Went for dinner at Bier Fabriel – a bar/ restaurant which has peanuts on the table which you can eat then discard on the floor (which apparently helps to polish the floor!) We were very surprised to see the floor covered in peanut shells when we walked in. Here we tried some really great home brewed beers.
We got breakfast at La Place, a massive canteen serving a wide variety of different foods all fresh and in store.
We found a small church which is entered through a small door on a busy shopping street (called Een Kwartier Voor), which had a nice choir singing.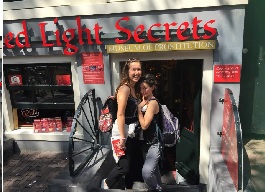 After this we visited a food market by China town, which had lots of nice independent stalls. We then strolled around the China town and visited a Buddist temple where we lit some incense as a spiritual symbol.
We visited the Red Light Secrets museum (€8), which was extremely insightful and entertaining. Visit if you are interested in learning more about the history and the truth about the red light district. (about 45 minutes)
Got train from Amsterdam central station to Berlin
---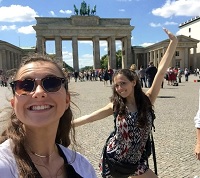 We did a free walking tour around the city with Hostel Culture. Through this we were able to see the main sites and attractions and hear some fascinating stories about the sites from the local and knowledgeable tour guide. The tour lasted 3 hours and included visiting: the Bode museum, Pergamon museum, Alte nationalgalerie, Holocaust memorial site, Checkpoint Charlie, Brandenburg gate, Berlin wall, Hitler's bunker, Humboldt University and a WW1 memorial. This tour was extremely informative and definitely worth doing.

We then explored Hackescher Market (Mitte) area where there were lots of cool shops, street acts and nice restaurants.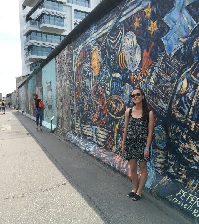 We also visited Strandbar Mitte during the day, which is a very popular bar/restaurant located opposite museum island. Here there were a vast variety of local people ball dancing in the outdoors area, which we were encouraged to join in with and really enjoyed. We would really recommend visiting here.

In the evening we went on the packbacker pub crawl, in which we went to several bars and ended up at a club called Matrix. We would advice this to any travellers who want to go out in the evening and meet fellow travellers as people were very friendly and you meet lots of interesting people. The cost was including drinks and club entry was very reasonable.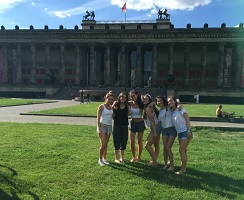 We took the train to the East Side Gallery and walked along the wall, looking at the different pieces of the art/graffiti on it. We then walked around the Kreuzberg area which has lots of trendy cafes, shops and places to hang out.
Next we went to Badeschiff, which is a swimming pool and beach area located on the river Spree. The weather was very nice so this was a lovely way to spend the afternoon as the complex had a buzzy and relaxed atmosphere and was somewhere a bit different in a very busy city. Entry was €3 for students.
We then walked around Freidrichshain, which was also a very cool area with lots of nice shops and people about. We had dinner near Hackescher market, which is a very busy area with lots of restaurants with outdoor areas and live music.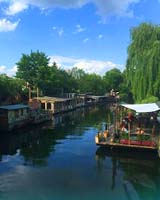 We visited the holocaust museum which is located amongst the main holocaust memorial site. It had free entry and was extremely informative, interesting and gripping. We would recommend going as you can spend as long as you wish there, depending on what you find interesting, from 45 minutes to 2 hours.

We then went to Lustgarten, a park located very near to museum island, where we sat by the fountains in the sun listening to the live music that was playing. There were lots of people around and the park had a really buzzy atmosphere.
---
Got train from Berlin to Prague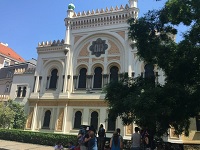 We woke up very early to get our train, from Berlin to Prague, which was a very enjoyable journey through nice mountains, lakes and pretty rural areas.
We arrived at our hostel, Artharmony pension & hostel, which had a really cool vibe with extremely friendly staff that helped us get to know the area.
We took a 25 minute walk into town and went for dinner at a restaurant called Clear Head. This was a very trendy vegetarian restaurant which had great food for a reasonable price but was very popular. Some interesting dishes we had included smoked tofu and pumpkin spread with bread and 'raw' chocolate cake.
We then walked to the Old Town Square where people were sitting out drinking, watching the street acts, including magicians and musicians, and riding on segways. We spent the rest of the evening sitting in the square and then walking along Charles Bridge looking at the brilliant view of Prague lit up at night.
We went on a free walking tour of the main sites and quarters in Prague. This included visiting the Old town square (where we learnt out the history of the astronomical clock), the municipal house, Charles University, the Jewish quarter, the new old synagogue, the Jewish cemetery and Charles Bridge. The tour was very informative and helped get an overview of the main sites and areas in Prague.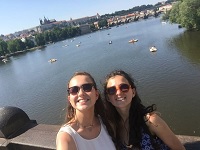 We got lunch and explored the parks located on the river Vltava. The parks have a really nice atmosphere with lots of people sitting out having picnics and chatting – we especially liked Slovansky Ostrov Park. We then wandered around the old town and Jewish quarter and looked about a nice food and souvenir market located just off the old town square.
We then had dinner at a nice restaurant located near the main square called Pasta Fresca. We then went on the Prague Pub Crawl which was extremely popular and included 1 hour unlimited drinks and free entry to the biggest club in Europe. It was a very fun evening and we would definitely recommend going on this pub crawl.
We crossed over Charles Bridge, which had lots of market stal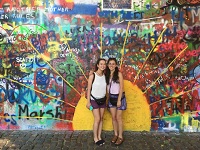 ls selling jewellery and local art, to the other side of the river. We headed towards the John Lennon mural on Mala Strana, which was a really nice area dedicated to John Lennon and peace – there were lots of people singing Beatles songs here!
We then walked up the streets leading to the Prague castle which had lots of shops and restaurants to look at. After a very steep walk we arrived at the castle, which had a really lovely view over all of Prague, and had a look around the cathedral. From here we made our way to Chotkovy Sady, a really pretty park with small ponds and lovely views. We continued walking through the parks and arrived at Letenske Sady, a park with nice scenery, the 'best view of the whole of Prague' and a popular beer garden, where we stayed and relaxed for a while.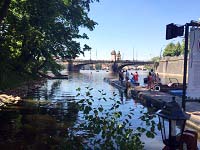 We started our day by treated ourselves to an all you can eat buffet breakfast at Ristorante Vabere, which is located near the old town square (£4 each), which included fruits, yoghurts, bread, cheese etc. We then walked towards Slovansky Ostrov Park (on the river) where we rented out a peddalo boat which we paddled along the river in the sun (£5 each) for a couple of hours. This was very nice and relaxing, especially as it was so hot out! We then met some friends in the old town square and had dinner in a traditional Czech restaurant .
---
Trip Dairy Part 2 --Coming Soon!
---