Train Reservations & Supplements
With your Interrail Pass you can easily travel without a reservation on many local and regional trains in the Interrail country of your choice. But for many high-speed services, international trains, some InterCity services and all night trains an advance seat reservation is compulsory. Keep in mind that travelling on a night train is a great way to save on accommodation costs.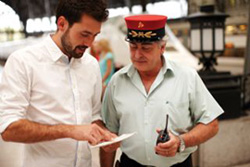 Popular trains and routes, including the domestic French TGV trains and the TGV's from Paris to Milan and Switzerland, have a year-round limited seat allocation for Interrail pass holders. After this limit has been reached you would have to buy a full price ticket.
By booking in advance you should be able to reserve a seat. So it's worth reserving yourself a seat, especially during peak times (May-September and school holidays) or if you have a plane to catch at the other end!
Reservations for night trains are always compulsory. The reservation fee varies depending on the type of sleeping accommodation you choose, and the route you are travelling on. Advance booking is recommended for domestic and international trains in high-season and during peak times. Some trains have a limited number of seats for Interrail travellers (such as TGV and Thalys).
Click here to find additional information about reservations and lots more useful information about the specific Interrail country of your choice.
For a printable file of all supplements to consider whilst planning your Interrail trip please click here, this file contains information on Domestic, International and Night Sleeper trains.