Train Reservations & Supplements
With your Interrail Pass you can easily travel without a reservation on many regional trains in the Interrail country of your choice. For many high-speed, International, InterCity services and all night trains an advance reservation is compulsory. (Keep in mind that travelling on a night train is a great way to save on accommodation costs!)
View Eurail Group's central reservation page
here
(opens in new window)
Supplements:
By booking in advance you can reserve a seat or pay the supplement for the service you require. Domestic and International trains that travel in or through France, Spain and Italy particularly have compulspory reservations. This means you cannot get on without a seat reservation (like an airline.) These railway companies have ye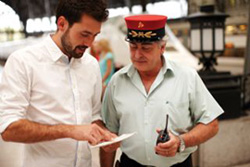 ar-round allocation for Interrail Pass holders, availability is generous but sometimes during peak times (May-September and school holidays) you may have to buy a separate ticket to guarantee you are on that train (especially if you have a plane to catch the other end) or change your train time to when there is passholder availability.
Reservations for night trains are always compulsory. The reservation fee varies depending on the type of sleeping accommodation you choose and the route you are travelling on.
Indicative Prices:
Advance booking is recommended for domestic and international trains in high-season and during peak times.
Click here to find additional information about reservations and lots more useful information about the specific Interrail country of your choice.
For a printable file of all supplements to consider whilst planning your Interrail trip please click here, this file contains information on Domestic, International and Night Sleeper trains.