Top European UNESCO World Heritage Sites
Europe is home to some of the most amazing World Heritage Sites listed by UNESCO. With this in mind we have picked our favourite world heritage sites on the continent that are fairly easy to reach by train.
---
What is it?
Think Italian riviera, think colourful buildings and then think breathtaking views of the sea from one of the many terraces that make up one of Italy's most iconic coastline's and you have yourself a good summary of Cinque Terre. The combination of all of which contribute to its recognition as a UNESCO World Heritage Site. But that's not the the only reason why Cinque Terre should be visited during an Interrail trip.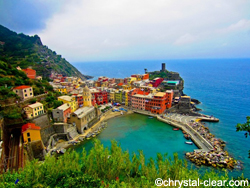 Why visit?
From its history to its natural beauty there are plenty of reasons to add Cinque Terre to your Interrail bucket list.
Great food: from delicious food to tasty wine, eating lots of great food sure is something to be enjoyed when visiting this part of Italy. The town of Riomaggiore certainly offers its visitors a great dining experience. Visit one of a number of restaurants along the town's pleasant harbour to enjoy some of the loveliest seafood in the Cinque Terre region.
Nature: Cinque Terre's geographical location sure is the perfect holiday spot if you are a nature lover. From Cinque Terre National Park to beautiful beaches surrounding each of the five towns in the region to scenic trails and plenty of vineyards ready for you to wander through. This part of Italy really is an oasis for anyone with a passion for nature.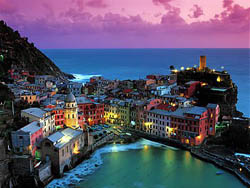 History: Cinque Terre certainly provides a great snapshot of ancient Italy. With a history dating all the way back to the 11th Century when the first 2 villages Monterosso and Vernazza were formed in the region. Followed by the creation of the other 3 villages of Riomaggiore, Corniglia and Monterosso.
These five villages to this day make up this World Heritage site in northern Italy. each of these picturesque fishing village's certainly has its own unmistakable characteristics. But the steep stone steps, narrow alleys, seaside promenades, tranquil piazzas and colourful houses throughout these villages come together perfectly to let you take a step back in to Cinque Terre's rich history.
Getting there by train:
Local trains from La Spezia to Genova and the rest of the region's network connect the five main villages also known as the "5 lands". Intercity trains also connect the Cinque Terre to Milan, Rome, Turin and Tuscany.
---
What is it?
Over several centuries and ice ages giant glacier tongues have shaped this part of the Norwegian landscape into the beautiful UNESCO World Heritage Site that it is today. So do make sure that drifting on top of these u-shaped undersea valleys whilst enjoying the breathtaking mountain scenery along the west coast is definitely on your Interrail bucket list.
Why visit?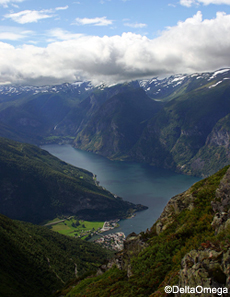 In a few words you could describe the Norwegian Fjords as a true masterpiece of nature and that in its self is more than enough of a reason to visit. The mountains, valleys and glaciers that combine to make up the Norwegian fjords will certainly ensure you have one unforgettably calm and soothing break.
But if that's not quite what you are looking for then there are plenty of activities that will ensure you enjoy Norwegian Fjords Interrail adventure too. With lots to choose from such as kayaking, hiking, walking on glaciers, cycling and rafting or even summer skiing a trip to the Norwegian Fjords is certainly worth if it for adventure lovers too.
Getting there by train:
The Aurlandsfjord is one of Norway's Fjord's which is easily accessible with the Flåm Railway.
The route starts of in Myrdal and takes you to Flåm in approximately 45 minutes. The relaxed pace of the train will give you plenty of chances to enjoy the most scenic spots along the route.
With an Interrail Pass you will be able to get a 30% discount on one way fares. Making it a good reason not to miss this World Heritage Site.
---
What is it?
Well, the Rhine river follows through a total of 6 European countries including Switzerland and France. But the must beautiful parts of the river make up Germany's wonderful Rhine Valley.
Germany's Middle Rhine Valley stretches over 65 km of Germany landscape dotted with historic towns, beautiful castles and vineyards which give the perfect reflection of how humans have been involved with dramatic and varied natural landscapes to this day. All of this beautiful scenery really makes the Rhine Valley a perfect route for an Interrail adventure.
Why visit?
The largely untouched natural landscape of the Rhine Valley means that it has managed to preserve so many of the authentic elements that make this section of Germany so unique.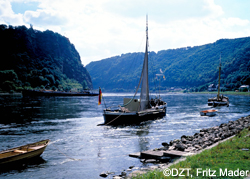 But if that is not enough for you then the steep slopes, vineyards terraces and wealth of history should be a good excuse for you to Interrail your way to this World Heritage site in the heart of Germany. With some 40 castles and forts spread across 60 towns and settlements across the region there is plenty to see if you are a history lover. But if your more passionate about food then the mouthwatering cuisine of this part of Germany will sure get your taste buds excited. And in our opinion this perfect mix of natural beauty, great food and plenty of history means that the Rhine Valley certainly does deserve its UNESCO World Heritage Site status.
Getting there by train:
The Rhine Valley is accessible via 3 main stations along its route.
These are Bingen, Rüdesheim and Koblenz. All of which have good train connections with some of the larger German cities, including Frankfurt and Cologne.
---
Buy an Interrail Global Pass now
to be one step closer to experiencing these amazing sites.

Back