Explore Europe on a budget
Looking for a new adventure for 2020? Interrail is the perfect way to travel across Europe for less and no flights needed.
Don't miss the opportunity to explore Europe and travel for less with an exclusive 10% discount on the an Interrail Pass. Get access to 31 countries, over 10,000 destinations and unlimited travel on almost all trains across Europe. You can even choose between consecutive or flexible travel days within one or two months.
Get ready for the trip of a lifetime: our inspiring Interrail itinerary is there for you to pick and choose. Bursting with history, Instagrammable views, cool culture and delicious food. All you have to do is pack your bags, hop on the train and enjoy the rolling scenery as you go wherever your curiosity takes you, from city to city.
Whether you're thinking about your next getaway or looking for a new experience, explore Europe with the Interrail Pass and make your next adventure even cheaper and greener*.
Buy your Interrail Pass here before 31st December 2019 and get 10% off.

Amsterdam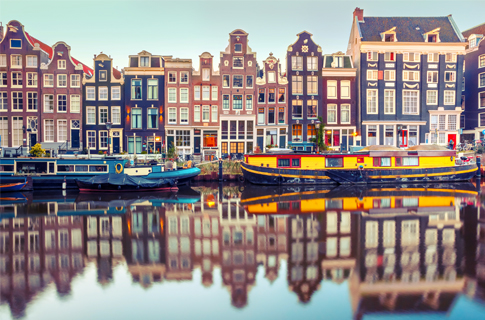 Go from the most classic museums such as Rijksmuseum and Van Gogh Museum to the most Instagrammable with the likes of MOCO Museum and WONDR Experience (until April 2020). Go behind-the-scenes at the Heineken Experience and feast on Dutch pancakes, cheese and stroopwafels before getting the perfect Amsterdam shot at the A'DAM Lookout Swing, Europe's highest swing.
3 hours 55 mins from London with Eurostar

Cologne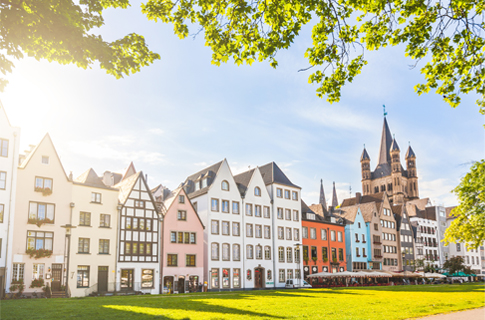 Cross the Hohenzollern Bridge, wander amongst colourful buildings in Cologne's old town and Belgian Quarter with its cool shops and cafés. Head to the chocoholic's dream, Schokoladenmuseum, the chocolate museum in collaboration with chocolate brand Lindt. End your day at 103 metres up at Köln Triangle's observation deck, boasting panoramic views across the city that turn a pink and orange hue at sunset.
2 hours 45 mins from Amsterdam with Deutsche Bahn

Munich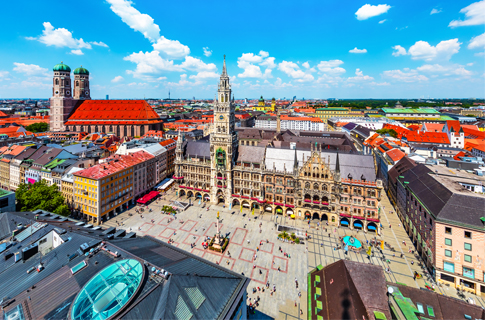 Travel between 19th September and 4th October 2020 to attend Oktoberfest and enjoy the 'gemütlich' beer tent atmosphere to the sounds of traditional Bavarian folk music and save some energy for amusement rides outside. For experienced surfers, surf in the city at Eisbachwelle, a manmade river and surfing area in the city centre (or just head over and watch!).
4 hours 35 minutes from Cologne with Deutsche Bahn

Salzburg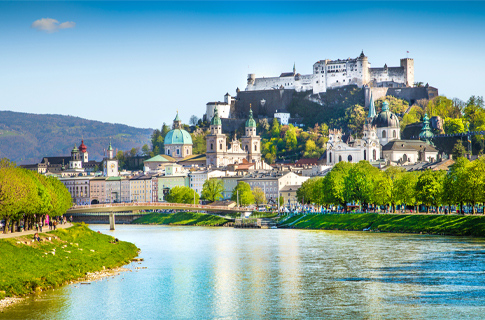 Start at Fortress Hohensalzburg before heading to MönchsbergAufzug and feast your eyes on magical views of Salzburg. Have a coffee at the oldest coffee house in Austria before crossing the river and heading to Mirabell Palace and Gardens to recreate scenes of the classic The Sound of Music and belt out the lines of Do-Re-Mi.
1 hour 30 minutes from Munich with Railjet

Vienna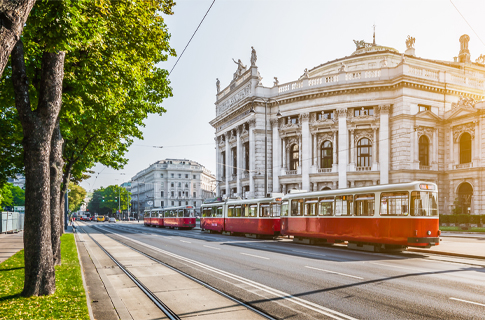 See beautiful buildings such as Vienna Opera House, grandiose palaces and colourful façades at Hundertwasserhaus. For panoramic views of the city, go up St Stephen's Cathedral or if you're up for some extra fun, ride the Ferris wheel at Prater Amusement Park. Fill up on schnitzels and strudels or take a break at the Sacher Hotel and enjoy the original Sachertorte.
2 hours 25 minutes from Salzburg by Railjet

Budapest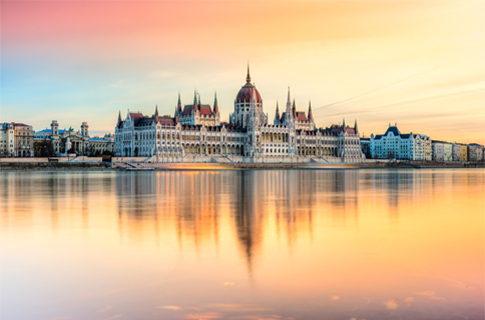 Cross The Chain bridge, ride the funicular to Buda Castle and feel like you're in a fairy tale at Fisherman's Bastion. Grab some food at the New York Café before taking a break from all the sightseeing by relaxing in the Széchenyi Baths and end your day at the ruin bars. Music and festival lover? Coordinate with Sziget Fesztivál 2020 (2/08/2020 – 11/08/2020) and enjoy a yet-to-be-announced line-up of the biggest artists, performing arts and parties.
2 hours 40 minutes from Vienna with ÖBB Österreichische Bundesbahnen

Prague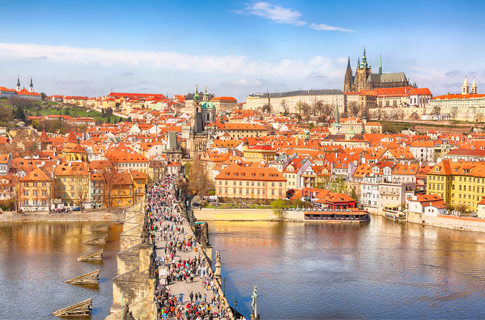 Once known as the city where beer was cheaper than water, explore the iconic Old Town Square where you'll find the Astronomical Clock, quaint streets and cross the iconic Charles Bridge to visit Prague castle and capture a few shots in front of the John Lennon Wall.
12 hours 45 minutes from Budapest by EuroNight Metropol (night train supplement applies)

Frankfurt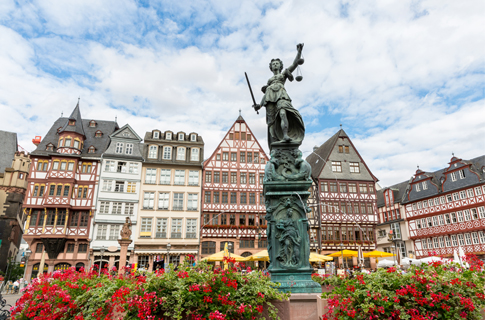 Stroll around old town Frankfurt's square, the Römerberg, before heading across Eiserner Steg, a footbridge with beautiful views of Frankfurt's skyline. Take a break from wandering around at Kleinmarkthalle and enjoy 156 market stalls selling fresh produce before losing yourself in a plant paradise at Palmengarten, Germany's largest botanical garden.
6 hours from Prague via Nuremberg with Deutsche Bahn

Brussels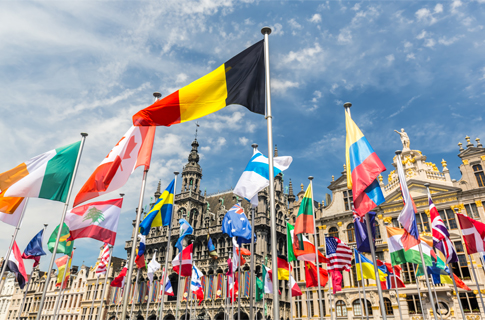 See the Manneken Pis and his lesser known sister, Jeanneke Pis before heading over to the Grand Place towered over by its Gothic Town hall and lined with centuries-old beer bars, shops and chocolate museum. Take regular sightseeing breaks with Belgian waffles, chips and chocolate.
3 hours 25 minutes from Frankfurt with Deutsche Bahn

Head back to London in just 2 hours 10 minutes on the Eurostar.
Buy your Interrail Pass here before 31st December 2019 to get 10% off and make the most of the trip of a lifetime.
*This itinerary by rail emits 96kg of CO2 compared to 1003kg by air.
Terms and Conditions
Get 10% off by purchasing between 29 November to 31 December 2019. Offer ends 23:59 on 31/12/2019.
All Promo Interrail Passes are non-exchangeable and non-refundable.
During the sale you can get an Interrail Global Pass from £127. Price based on 10% off a youth 3 Days in 1 month Global Pass.
An Interrail Pass lets you travel on the national railways of the 31 participating countries, as well as some participating ferry lines.
Date of travel must be confirmed on date of purchase.
Passes are valid from the start date entered for the duration purchased.
Trips can be booked for 11 months from time of purchase.
Please note that compulsory reservations and/or supplements apply on certain trains.

Back