An awfully big adventure
---
Anna will be nearly nine, [going on nineteen, some say], and her cousin Thomas, six [with the effortless charm of a born comedian] would be worthy recipients of this magnificent experience.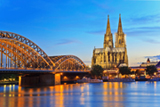 We would only be the conduits of their wonder as they explore the canal sides of Amsterdam, wander round the flea market on Waterlooplein and see where Rembrandt lived. I wonder if they might be interested in Anne Frank's story. And how exciting would the trams be.....?
Our next stop would be Cologne. Was there ever such a fine cathedral built? And to come into the city via that iconic bridge – wow!!
Next stop Munich. Lovely English Garden, [something for senior management], and of course the Nympenburg palace.
We have never been to Berlin, so this would be a journey of discovery for us, too. It would be good to see stuff about the Wall, which symbolised so much for us as we grew up. They say the zoo is amazing. And then there's the hop- on, hop-off bus, though how much hopping we will be able to do after all this activity is a moot point.
No time for Nuremberg, or Leipzig, or Hamburg, or the Black Forest ...........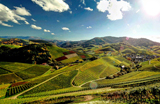 Time to go......It's eight hours back to Brussels – I think they might like to have the fun of a couchette – maybe one of their own.
My guess is that they will have had enough by now, but who knows? The Grand Place always makes me stop in my tracks, and we just have to save ourselves for the best food in Europe.
And the best thing about the whole trip is that Anna will never have used the "b" word.
---
© Alex Kent