What the children want, they get!
---
I haven't researched interesting places on the internet as I know that there are so many places in Europe that would interest most children.
Other truly spectacular rail journeys through Canada and India are also not within the scope.
So the children's imagination has been fed by that wealth of information at their fingertips. It isn't all games, but a genuine interest in the world.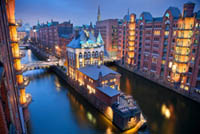 There is so much available that they sometimes forget the wealth of interest on their real doorstep.
There has been a recent programme about the amazing model railway model in Hamburg.
It would have to be high on the itinerary.
Complete with fully operational airport, docks and fire station, it is a must see.
Those interested grandchildren are not only the boys. With its raised railway and busy waterways both in the model and for real in the city, there would be much to see.
Amsterdam is fascinating and many of the children are amazed that so much of it is below sea level.
Some of the younger ones keen to see the dyke that legend says a small boy plugged with his hand and saved the country from flooding.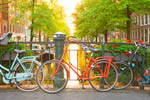 The old streets of cobbles or water would provide interest at any age. A safe place to cycle and I would love the traditional boats.
Younger ones would also like to visit Hamelin and the mountain where the children vanished. I expect there is a museum to explain the popular story.
At a school attended by some of the children, there is a project that involves exchanging ideas with a school in Kortrijk in Belgium by Skype.
That place would have to feature on the schedule too. It does have some interesting places to visit.
I feel that to win the competition would raise serious problems.
With 25 grandchildren, selecting who could come on such an exciting adventure would be difficult. However!
At least half of them could be discounted on age grounds.
It may be necessary to organise an internal competition to decide who goes or perhaps I may be able to purchase a rail pass supplement.
---
© Dennis Walby