Interrail with the kids
by Kim Webster
Some people may think my partner and I were crazy when we took our two children, one just turned two, the other three-and-a-half, travelling around Europe for two weeks in mid-winter, with only the first stop planned and a Interrail Pass in our pocket. And, I must admit, sometimes I did feel like I was being driven crazy! But the freedom and flexibility of being able to see what was happening and to decide what we felt like doing day to day – then jumping on a train using our Interrail Pass, and booking somewhere to stay on Airbnb – made for some amazing experiences and a fantastic holiday.

Our first stop was Paris, travelling from London on the Eurostar, where we spent three nights. It was a few days before Christmas so there was a buzz in the air, and queues out of the door and on to the street at every fromagerie with people frantically buying all sorts of cheese for Christmas Day.
One of the surprise highlights was a walk along Promenade Plantée. It's a magical, green stroll 10 metres above the street, which begins at the Bastille and winds through the 12th arrondissement for three miles, coming out before the Bois de Vincennes. The abandoned mid-19th century viaduct has been converted into an elevated park walkway, passing through old disused railway tunnels.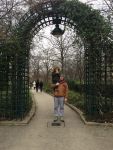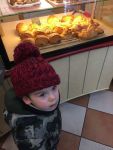 For our next stop we decided to head down to the South of France, with the vague idea of then making our way along the top of Italy. After a seven-hour train journey we arrived in Nice late on Christmas Eve. We only spent that night and Christmas Day morning in Nice, but the highlight was definitely Promenade du Paillon – a wonderful children's playground with different zones, all made from wood and with an aquatic theme. There's a pirate ship, a giant whale, lots of swings and interesting (and challenging!) climbing structures.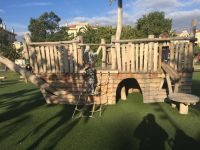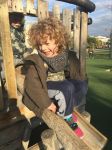 We decided our next stop would be Venice. Trains in both France and Italy run on Christmas Day, but there was no direct train from Nice to Venice, so we did three separate train journeys over the space of about six hours. It might sound grueling, but we actually found it much easier with the kids to break up the journey – each new train was an exciting new adventure! A journey highlight was having a whole first-class train carriage to ourselves, complete with a carriage "board room", where the kids had fun holding "meetings" uninterrupted for hours. Arriving in Venice on Christmas evening, we were filled with wonderment at the thousands of boats and what felt like thousands of flavours of ice-cream to choose from!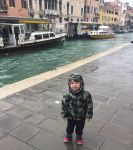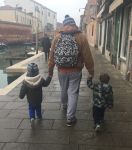 After two days in Venice, we made our way across to Ljubljana in Slovenia. We spent a night and then most of the next day at Atlantis Water Park, a huge water park with four different indoor pools for kids, with slides, water features and water games. By the time I dragged the kids out of the water park it had started to snow. It was snow that defined our next few days, making them magical. We decided to head somewhere more remote, so it was back on a train, this time to a tiny village called Sladka Gora to stay on a vineyard. The winemaker met us at the station, drove us to the vineyard and fed us what seemed like a never-ending stream of amazing homemade Slovenian food. My favourite was the traditional Slovenian layered apple strudel cake called Prekmurska Gibanica. The snow had covered everything by now, and we woke the next day to the most beautiful view looking down from the vineyard to the village pilgrimage church that dates back to 1744.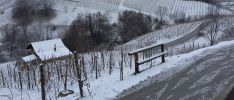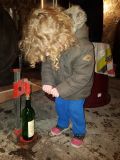 We had the chance to visit the wine cellar (also used as a makeshift sausage drying room) and sample some of winemaker's latest batch of pinot, and the kids got to have a go at capping wine bottles, which they were surprisingly good at!
It was then back on a train to our next stop, to stay on a tiny secluded ranch near a place called Dramlhe in Slovenia. Once again we found the ranch through Airbnb, booking on our mobile just a few hours ahead and it was definitely the highlight of our entire trip. A father and daughter, Gregor and Maya, had built the ranch on the side of a mountain complete with a unique beautiful hand-built wooden house, stables, kitchen area, horses, goats, a llama and a garden. The kids got to experience farm life without electricity and sleeping on a straw bed for a few days, and loved it! We spent our few days there taking forest walks, building snow men and talking to the llama.



By then we decided we'd better start heading back in the general direction of Paris, where we'd booked the Eurostar to take us back to London. We travelled as far as we could in a day (without going crazy!) on trains…which ended up being Turin in Italy. Having only drunk instant coffee for the last few days while on the ranch, I was pretty happy to reacquaint myself with Italian caffè macchiato! The kids were in food heaven too…pizza, gelato and making friends with a local sandwich maker.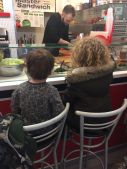 We were finally down to our last few days, and thought that a night train might be a good way to cover a long distance with the (hopefully sleeping) kids. We found a night train from Briançon in the south of France that went direct to Paris. It was a short train and bus trip from Turin to Briançon, where we only spent a few hours before the night train departed. Briançon is a ski resort town and looked beautiful from what we saw – one for the list of places to go back to one day!
The night train was completely full and our six-berth couchette sleeping compartment was shared with another couple and their one-year old daughter. I was wondering how the night was going to pan out with four adults and three children under the age of three in a VERY small space, when much to my relief the conductor magically appeared and unlocked the previously "unavailable" compartment next door and said we could move across. We arrived into Paris early the next morning, with a few hours to re-fuel with coffee and pastries before catching the Eurostar back to London.



The freedom of the Interrail Pass made this an amazing two-week holiday, visiting three countries and staying in seven different places – and I would recommend to anyone that they consider purchasing an Interail Pass for their next holiday adventure. My top tips for train travel with small kids: break up long distances by taking a number of shorter train trips (change of scenery on a new train does wonders); always have supplies of toys, games and snacks on hand; take hand sanitizer (those little hands will always end up on the train floor somehow) ; and take them for "adventures" (walks down the aisles) to meet and chat to new people, as this may keep you sane when they start to get bored!
The route we took on our vacation: