Off the beaten tracks
With an abundance of pristine castles, idyllic mountain ranges, turquoise rivers, modern cuisine and an Italian influenced coastline, make Slovenia your next must see (budget friendly) European destination by rail!
Europe off the beaten tracks - Slovenia
by Eddie Smith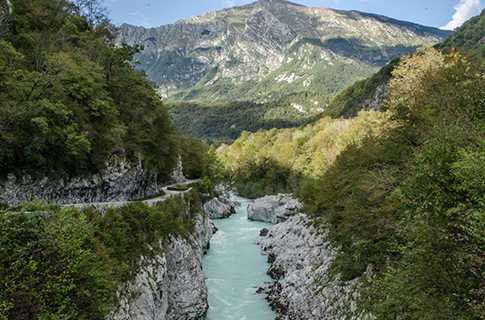 With an abundance of pristine castles, idyllic mountain ranges, turquoise rivers, modern cuisine and an Italian influenced coastline, make Slovenia your next must see (budget friendly) European destination by rail!
Charming little Ljubljana
Like any good story let's start in the middle: Slovenia's capital city, the Picturesque Ljubljana (that's lyoo-BLYAH-nah). Home to the country's major transport hubs, it's a great place to start your trip.
Slovenia's largest (but still very small) city is one of Europe's greenest. cars are restricted in the centre, leaving pedestrians and cyclists free to peruse cobblestoned streets and leafy, café-bar strewn banks of the Ljubljanica river.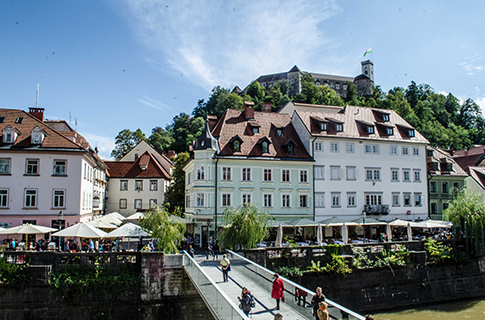 Easily walkable, a stroll around this unfamiliar pedestrianised core might have the well-heeled visitor reminiscing of Paris and Copenhagen. For best views and snaps of the city, head to Ljubljana castle which sits atop a 375-metre hill overlooking the capital. This largely 16th Century castle is free to visit, although a €12 guided tour will give you behind the scenes access.
Food. Glorious. Food. For truffle lovers like us, you will find them everywhere (even for breakfast!). And you won't have to break the bank to eat well in Ljubljana. Druga Violina is a favourite among locals for some hearty Slovenian delicacies. We recommend the drab sounding buckwheat porridge and pasta dumplings of potato, mushroom and chive. For dessert the local Gibanica (a pastry-ish/tiramisu-ish delight) is a must try.
Slovenians are proud of their wine. Slovene bottles are just as good as those produced in Italy and France, so make sure you try a bottle or two.
Glamping in enchanted Lake Bled
You can get to Lesce Bled station by train from Ljubljana central station in 2 hours. The blue-green lake is home to the insta fabulous lake Island church. In the summer months you can swim out to the Island, alternatively you can row, get a taxi-boat or just walk the 6km lake circumference path.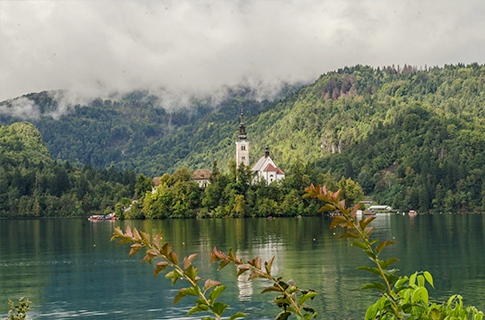 From the small village of Lesce Bled we jumped in a quick cab to the lake, but you can get a bus to Bled's main bus station.
Fancy a treat? Break the piggy bank and stay in Garden Village where 6 glamping tents lie in a forest, just off a river. This romantic location is also home to a handful of tree houses set on a musically flowing stream below. To explore Bled, we walked the periphery of the lake and had some lunch in Bled Castle overlooking the lake. Walkable even for the moderately out of shape human. Views from here are incredible and you can save the €10 entrance fee by making a lunch reservation at the castle restaurant.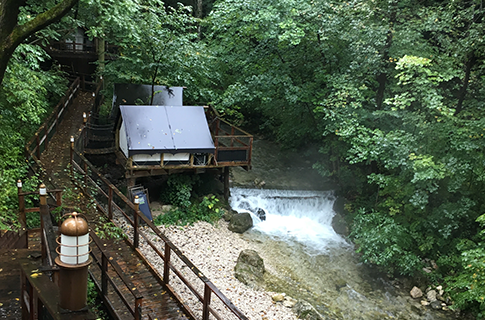 Sea, caves, castles and Alps
If you have time, and want to explore further, day trips from Ljubljana or Bled are abundant. We were picked up by the friendly guides from Roundabout and were driven through the snow-capped Julian Alps. We immersed ourselves in the natural beauty of Triglav national park visiting the dazzling emerald river in Soča Valley, waterfalls, gorges, glacial lakes and Karst limestone ranges. New Zealand might well hold the mantel for outdoorsy bliss, but Slovenia is also one for the geography buffs, nature lovers and adventure seekers for sure.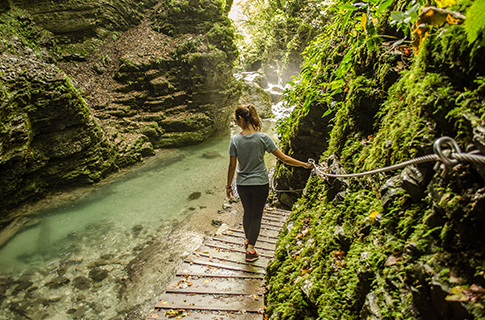 Now, I am a man with no great enthusiasm for being 100 metres underground, so when I say the Škocjan caves were incredible, that is saying something. Photography isn't allowed in this UNESCO heritage site, so google image "Gandalf crossing cave bridge" and you'll have a good idea of what to expect.
Next up, a quick stop off to see Predjama castle, built into a cave and cliff face, an image straight from the pages of a fairy-tale. There's some mystery around its construction and some interesting history involved. It is best viewed from outside, so save the entry free and enjoy the view.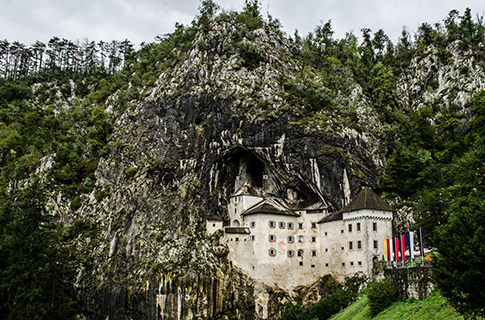 Picturesque Piran's renaissance style transported us to tranquillity. In the height of summer Piran rivals Venice itself for camera yielding, ice cream licking, sensibly shod tourists. We wandered the cobbled streets off the bustling Tartini square and long lunched at the Fritolin pri Cantini, before climbing the city walls to peer over this peninsula's gothic old town. A gem on the Adriatic coast.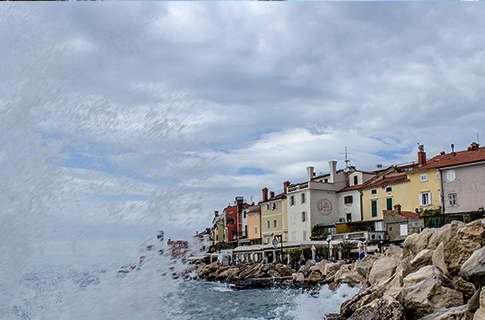 Slovenia is not just a country to tick off the list; it is definitely worth a trip in its own right. After six days exploring and sampling Slovenia's best, we took a fast train to Venice, a fabulous end to our trip before flying back to London.
If you are Interrailing with a Global Pass, make sure you stop over for at least 2 or 3 action packed days. Sharing boarders with four famous neighbours means Slovenia has many rail connections, to /from Zagreb, Budapest, Prague, Munich, Vienna…or save yourself some time and money take an international night train from Austria, Croatia, Germany or Switzerland. Whatever route you take, you won't regret making Slovenia your next must see European destination.
Blog and photos by Eddie Smith
To book your Interrail One Country Slovenia Pass click here

Back