Spain
An Interrail trip to Spain will for sure be full of anything and everything you could want from a holiday in Europe. From it's festivals and lively cities to its amazing beaches, Spain certainly has something to offer for every Interrailer.
---
Culture and fun in Barcelona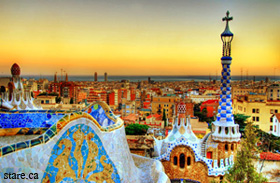 Barcelona is a Mediterranean city where culture, history and a few good nights out go hand in hand.
Barcelona's streets offer visitors of all kinds, something at every twist and turn! From places like the mesmerizing Sagrada Família to Casa Milá and parks with amazing views such as the Park Güell. The streets of the city's old quarter are also surrounded by lots history and exciting culture, perfect if you are all about experiencing culture whilst on your Interrail adventure.
Barcelona's varied offering of music and nightlife is sure to have any party lovers heart skip a beat too. Try Port Olimpic, right on the City's seafront and enjoy the Mediterranean to the max. From bars, restaurants, clubs and Casino de Barcelona the Port Olimpic is sure to provide you with a night to remember.
Relaxing on the beaches of Sitges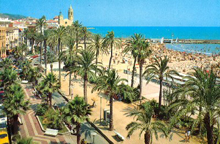 Situated right between the Sea and Mountains with a beautiful natural setting along the Costa de Garraf, Sitges is filled with fun activities for all visitors. You can enjoy the amazing views of the Mediterranean Sea and the coastal mountain range spanning from Vilafranca del Penedés to Sant Sadurní d´Anoia. Or you could always take a trip to the Cistercian Monastery of Santes Creus and be impressed by this historic wonder which was declared a World Heritage Site by UNESCO.
Whilst you are in the region you should try some of the mouth-watering Catalan dishes such as "xató" too. Alternatively you can enjoy some time out on the white beaches and pristine waters of this coastal town. From the well connected beaches to the remote coastal regions the beaches of Sitges offer the perfect retreat for any beach lover. But if you are a little more adventures you can always enjoy a bit of hiking, climbing or even potholing in the area too.
Fiesta de San Fermin: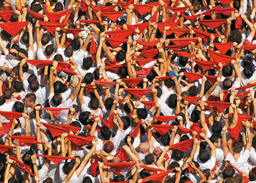 Spain is not just known for its beautiful beaches and cities but also for its festivals and fun loving folk. Pamplona is certainly no different, well know for one of Spain's most famous festivals, Fiesta de San Fermin or more commonly known as the running of the bulls festival which is not just about the exciting gathering of humans and bulls but also about plenty of history and deep rooted traditions.
The details of the Fiesta de San Fermin festivities are a must know for any Interrail adventurer. So to get you a little more curious here is a quick run through of the festival.
The celebration is made up of a dozen or so bulls and plenty of people. Dating all the way back to the 14th Century, with the passing of time the racing of bull's festivity in Pamplona has become a world famous event that any adventure lover should be sure to experience at least once.

The dates: 6th July - 14th July every year.

The details:
Pamplona's racing of the bulls is a 7 day event that originated from the sense of adventure of some young adults! Back in the day men would try to speed up the process of transporting their cattle by using tactics of fear and excitement. With time the transportation of cattle took on a more fun and competitive edge, young men would build up the courage to run in front of the bulls to make it to their pens in one piece without being overtaken by bull or other men alike. And so an adventures Spanish tradition that is part of the festival of San Fermín was created and still remains to this day!
If your feeling brave enough to take part then you should get your hand's on an Interrail Spain Pass and make your way to Pamplona to see if you can be one of the many participants to reach the famous bullring of the town fit and well.

A My Interrail tip: With lots of adventure enthusiasts arriving at the same time you should definitely consider booking your accommodation well in advance.
---
Feeling inspired yet?
Then make sure you have a look at our Interrail Spain Pass now!