Interrail One Country Pass Promotion
Discover the country of your choice inside out! Prices start from just £40* in the 10% Early Bird Promotion...
Terms and conditions apply, please see
here
Coverages & Prices
The Interrail One Country Pass is available for any of the countries below. Click on the country
of your choice and find out all you need to know!
*Note: Belgium, Netherlands and Luxembourg are joined together in the Benelux Pass
*Note: Above prices are Youth Pass 2nd Class prices
1) Promotional Passes: are Non-Refundable and Non-Exchangeable. You will need to confirm your travel date at the time of booking, this cannot be changed once a Promotional Pass has been issued. Regular Passes are also available here.
2) Compulsory Reservations & Supplements: Please be advised that compulsory reservations and/or supplements apply on certain trains (eg: High Speed or Sleeper services.) Details of approximate prices can be downloaded for international journeys here and domestic journeys here.
3) Booking Horizon: You will need to select the start date of your Pass at the time of booking, this can be any date wthin the next 11 months.
4) One Country Passes are not valid in your own country of residence (eg: UK residents cannot purchase a Great Britain Pass)
Want to see more of Europe?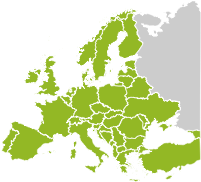 Have a look at the Interrail One Country Pass range and find one particular European country that you could explore.