Greek Islands Pass - Conditions Of Use
---
The Greek Islands Pass is valid for a return international crossing between Italy and Greece operated by Superfast Ferries (Attica Group) in cooperation with Anek Lines on the following routes: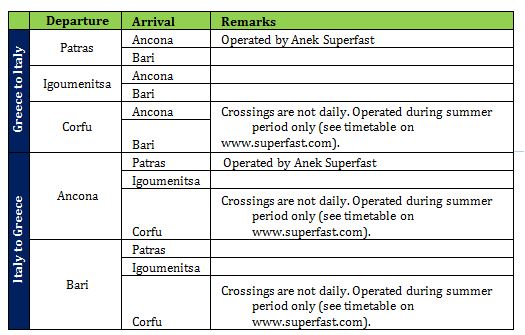 Additionally, the Greek Islands Pass offers 4 domestic trips to Greek islands operated by Blue Star Ferries. The following routes are available:
Piraeus-Heraklion (the line is jointly operated with ANEK Lines)
Piraeus-Paros-Naxos-Ios-Santorini
Piraeus-Syros-Paros-Naxos-Santorini-Iraklia-Schinoussa-Koufonissi-Donoussa-Amorgos (Katapola & Aegiali)-Astypalaia
Piraeus-Santorini-Kos-Rhodes
Piraeus-Syros-Amorgos (Katapola)*-Patmos-Leros-Kos-Rhodes
Piraeus-Astypalaia-Patmos-Lipsi-Leros-Kalymnos-Kos-Nisyros-Tilos-Symi-Rhodes-Kastellorizo
Piraeus-Chios-Lesvos (Mytilene)
Rafina-Mykonos-Paros-Naxos-Ios
* The line with a star is operated only during summer season (e.g. Katapola).
For example, a Pass holder can start in Piraeus or Rafina port and go to Syros, Tinos, Mykonos (3 islands) and back to Piraeus or Rafina port (in total: 4 domestic trips).
Customers who make a crossing from Ancona or Bari (Italy) to Patras (or v.v.) can travel for free from Patras to Piraeus using TRAINOSE's bus and train service (upon presentation of their Greek Islands Pass). TRAINOSE rail/bus transfer runs from the international port of Patras to the domestic port of Piraeus (bus between Kiato and Patras, train between Kiato and Pireaus). This trip can be made before or after an international ferry crossing and does not require a separate 'trip' in the Calendar box on the ticket.
Pass Usage:
The Greek Islands Pass is a One Country Pass that offers 6 ferry crossings consisting of 2 international trips between Italy and Greece, and 4 domestic trips to Greek islands.
The Pass is only valid on vessels belonging to the Attica Group.
This Pass allows you to travel from Italy to the Greek mainland on ferries from Ancona and Bari to Corfu, Igoumenitsa, and Patras (and vice versa).
Greek Island-hopping:
In Greece, customers can take advantage of the island-hopping benefits of this pass. The Pass primarily covers islands in the Cyclades and Dodecanese clusters, but it also includes a few Northeastern Aegean islands as well as the island of Crete.
The following Greek islands can be visited with the Greek Islands Pass:
Amorgos
Astypalaia
Chios
Crete
Donoussa
Ios
Iraklia
Kalymnos
Kastellorizo
Kos
Koufonissi
Leros
Lesvos (Mytilene)
Lipsi
Mykonos
Naxos
Nisyros
Patmos
Paros
Rhodes
Santorini
Schinoussa
Symi
Syros
Tilos
Tinos
The Pass is valid 6 ferry crossings (as stated above) within a 1-month period


One crossing is counted as one trip in the Travel Calendar (not as a travel day)


The 6 trips may be taken consecutively or non-consecutively
---