Interrail Turkey Discounts & Benefits
---
If your Interrail Pass is a Turkey Pass or Global Pass then you can make the most of the following discounts and offers during your stay in Turkey!
---
1. Transport:
Cross Turkey's biggest lake, Lake Van with TCCD ferries:
With your Interrail Pass you will have the chance to cross Lake Van for free! This offer applies to the ferry route:
The Route: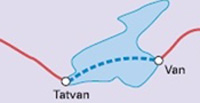 Booking information:
Simply present your Interrail Pass when you arrive at the dock in Tatvan.
2. Attractions:
Your Interrail Turkey Pass has some of your sightseeing needs covered too, have a look at the offers below to see what you could be enjoying whilst in Turkey.
Visit the Orient Express Railway Museum (Istanbul):
With your Interrail Pass you can receive free entry to the TCDD Railway museum at Istanbul Sirkeci station.
General conditions:
These benefits only apply during the validity of your Pass.